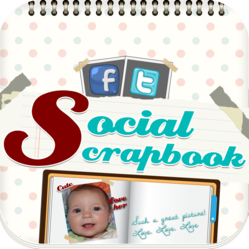 Social Scrapbook Pro is a digital scrapbook application for the iPad and iPad mini iOS devices and is designed to help scrapbook enthusiasts, using Facebook and Twitter activities, easily create and share artistic, professional-looking scrapbooks. The cost is $2.69 and is well worth the price for the quality and convenience. Also, A free trial version is available so you can give it a test run before you buy.
The automatic archive makes it easier than ever to create scrapbooks instead of the hassle and clutter of keeping all your memories and pictures bundled in rubber bands, boxes, and envelopes, a record of our notable moments is neatly stored online in timestamped social shares.. For each individual page, the app lets you add specific items from both Twitter and Facebook to the temporary bin before assembly. You construct pages using simple touch gestures to re-size and move photos, move and edit text, as well as add optional background patterns and frames. The app allows users to choose from a variety of templates designed to create baby scrapbook pages that can be shared digitally or printed locally.
Social Scrapbook Pro supports multiple book creation, storage, and sharing. Future version updates are planned to offer additional themes and templates, the ability to print-professionally, and share options with Facebook and Instagram. What makes this app unique is the ability to pull in content from the users' Facebook and Twitter accounts because we all live busy lives and having to upload data to a new place when it is already stored elsewhere on the net is just a waste of time. This app recognizes that and did something about it in order to make our lives more efficient.
I highly recommend this app for those who want to organize their memories and store it online for easy and forever access.